Are you a vegetarian looking for a great new culinary adventure? You should definitely give shojin ryori (精進料理) – traditional Buddhist cuisine – a try! My favourite way to enjoy it is at a Buddhist temple, but there are also many restaurants that offer it if that suits you better.
Shojin ryori - what is it?
Shojin ryori is deeply rooted in the Japanese Buddhist tradition. It is believed that it was introduced to Japan about 1000 years ago by monks from China.
It is based on several principles:
■ compassion: don't harm any living being
■ balance: use ingredients of various colors, textures, and flavors and various preparation methods (raw, boiled, deep fried, etc.)
■ mindfulness: both during preparation and consumption of the dishes
■ respect: use the ingredients in a manner that minimizes waste.
A meal in this tradition consists of rice, soup, three small side dishes and pickles. Vegetables are usually seasonal and locally sourced. Instead of meat, konnyaku, wheat gluten and soy products are often used.
The Buddhist rules prescribe avoiding strong-smelling flavours such as garlic, onion or coriander, but this does not mean that the food is bland. Mirin, vinegar, soy sauce, miso, sesame and kombu come together to give the dishes depth and complexity, so you can expect a savory but delicate and well balanced meal.
How to enjoy shojin ryori?
In temples or restaurants shojin ryori is usually a beautifully designed meal consisting of several small dishes served in red or black lacquer bowls set on trays and arranged artfully.
However, presentation is only a small part of the process. Both cooking and eating in this tradition should be done 'mindfully', with consideration, respect and gratitude. It is almost like a sort of meditation. Try focusing on each dish, the smell, color, taste, and texture and appreciate the ingredients.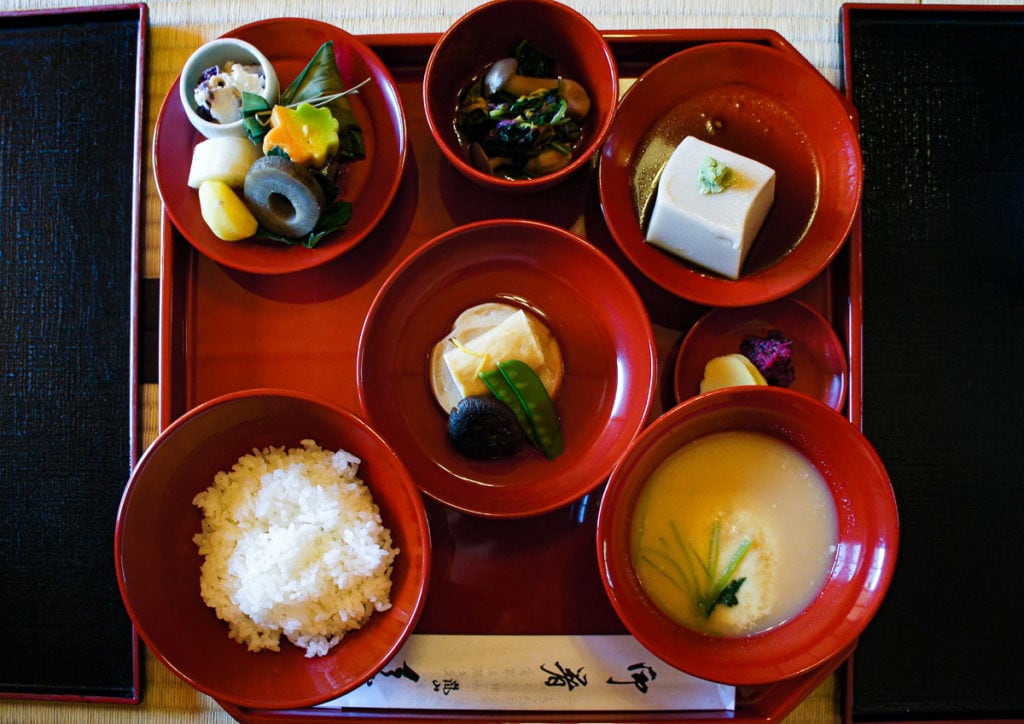 Where can you try shojin ryori?
Over the centuries, meals prepared at the temples were sometimes provided to visitors, pilgrims or simply people who came to pay their respects. Such was the popularity of the cuisine, both among those following the Buddhist faith and those who just wanted to try something new and healthy, that some temples decided to turn this into a business. In various places around Japan, especially around Kyoto, temples offer lay people a chance to experience "a day in life of a monk" or just a simple meal.
There are also many commercial restaurants specializing in shojin ryori. Many are quite pricey and Japanese-only. But don't worry! There are also more wallet- and foreigner-friendly options available in most of the bigger cities.
Shojin ryori recipes you can try at home
Shojin ryori is often considered to be too difficult or time-consuming to prepare at home. I gave it a try and I can tell you that it is definitely worth the effort! With some planning, you can adapt many of the popular Japanese vegetable-based dishes to achieve a result similar to shojin ryori. 
Goma-dofu, vegetable tempura or yakinasu & yakibitashi are some of my favourites!
What is your favourite shojin ryori spot?
I love exploring new places, especially the more local and the less crowded ones.
Have you found any wonderful shojin ryori spots in your neighborhood?
Please let me know in the comments!
The main picture is by 663highland / CC BY-SA. It was adapted to fit this blog's format by cropping and adding text.
The sub picture is by 663highland / CC BY-SA. It was cropped and straightened.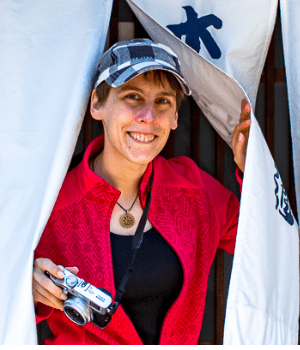 MARTA TAKAHASHI
Photographer and explorer with 10 years of experience leaving and working in Japan