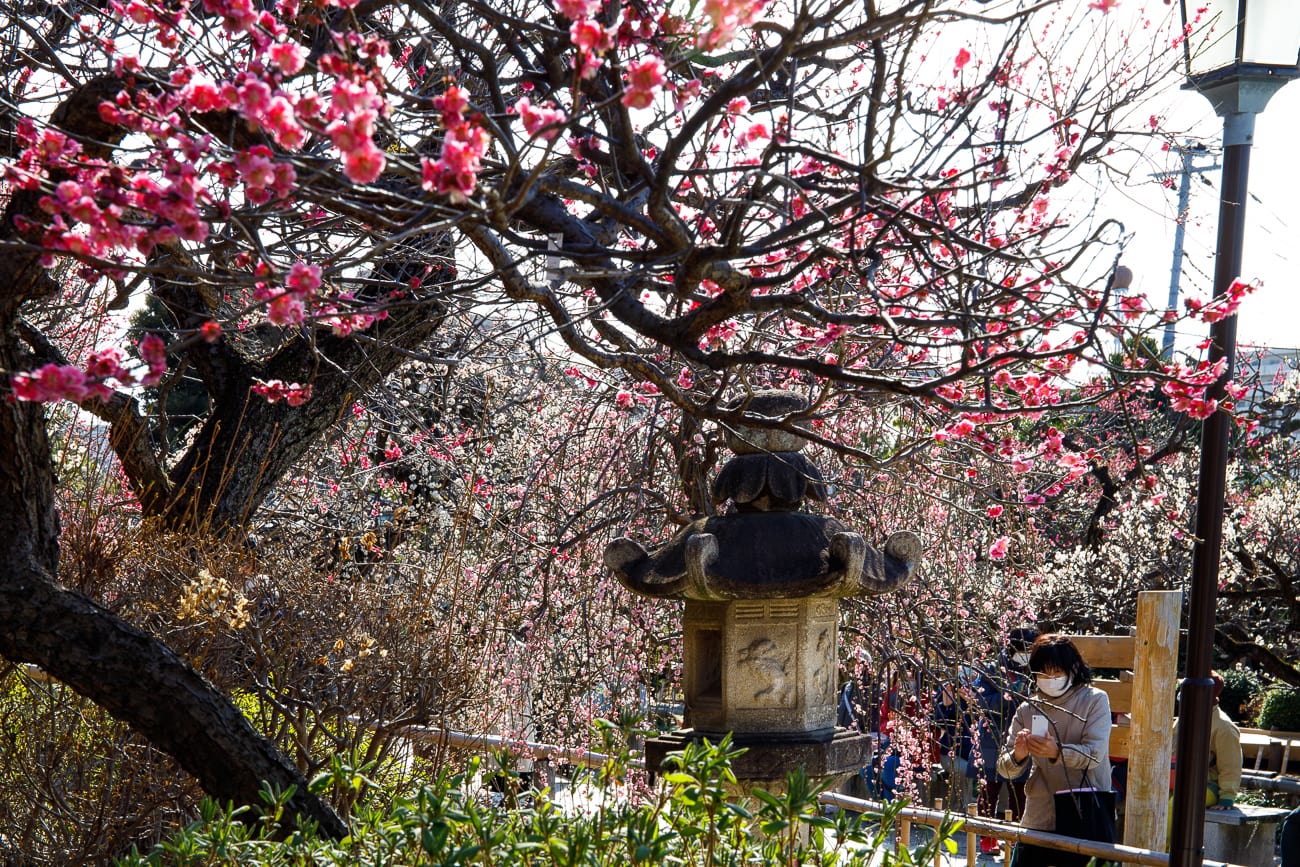 Spring in Japan evokes images of white and pink cherry trees in full bloom, rowdy hanami picnics and graduation ceremonies. But if you come at the end of February or beginning of March, you'll be able to catch another amazingly beautiful sight – the plum trees (ume). Actually, the hanami tradition – admiration of flowering fruit trees – comes to Japan from China, and the original was, supposedly, not the cherry tree but the plum! Read on to learn more about the ume and the best spots to enjoy plum blossoms in Tokyo.
When to see the plum trees
Depending on where in Japan you are, you can expect to see the plum trees start blooming in the beginning of February. The best time to see the trees in all their splendor is usually late February or early March. However, in warm places, the trees might start much earlier – even as early as late January!
The plum tree has been cultivated in Japan for centuries and is prized for both its flowers and fruit (think umeboshi, the pickled plums, and umeshu, the liquor). Like the sakura, plum trees come in many varieties, from simple five-petaled white to gorgeous frilly pink. Perhaps the easiest way to distinguish the two is by smell: unlike the cherry blossoms, ume have a wonderful sweet fragrance.
Ume have an important place in Japanese culture as a symbol of hope and vitality. As one of the first flowers to bloom, they signal the end of winter. To celebrate the coming of spring, in late February and in March many parks, shrines and temples around Japan organize festivals dedicated to the plum blossom.
Your typical ume matsuri would have stalls selling festival food, ume-themed sweets, amazake (non-alcoholic rice-based hot drink) and often light-ups. Many places also organize tea ceremonies and traditional music performances.
Late February or early March, the temperatures in most parts of Japan are usually in the 5-15 Celsius range, so it's rather cold for a picnic. But that does not stop crowds from gathering around the plum trees, taking photos or just talking a stroll through the plum gardens.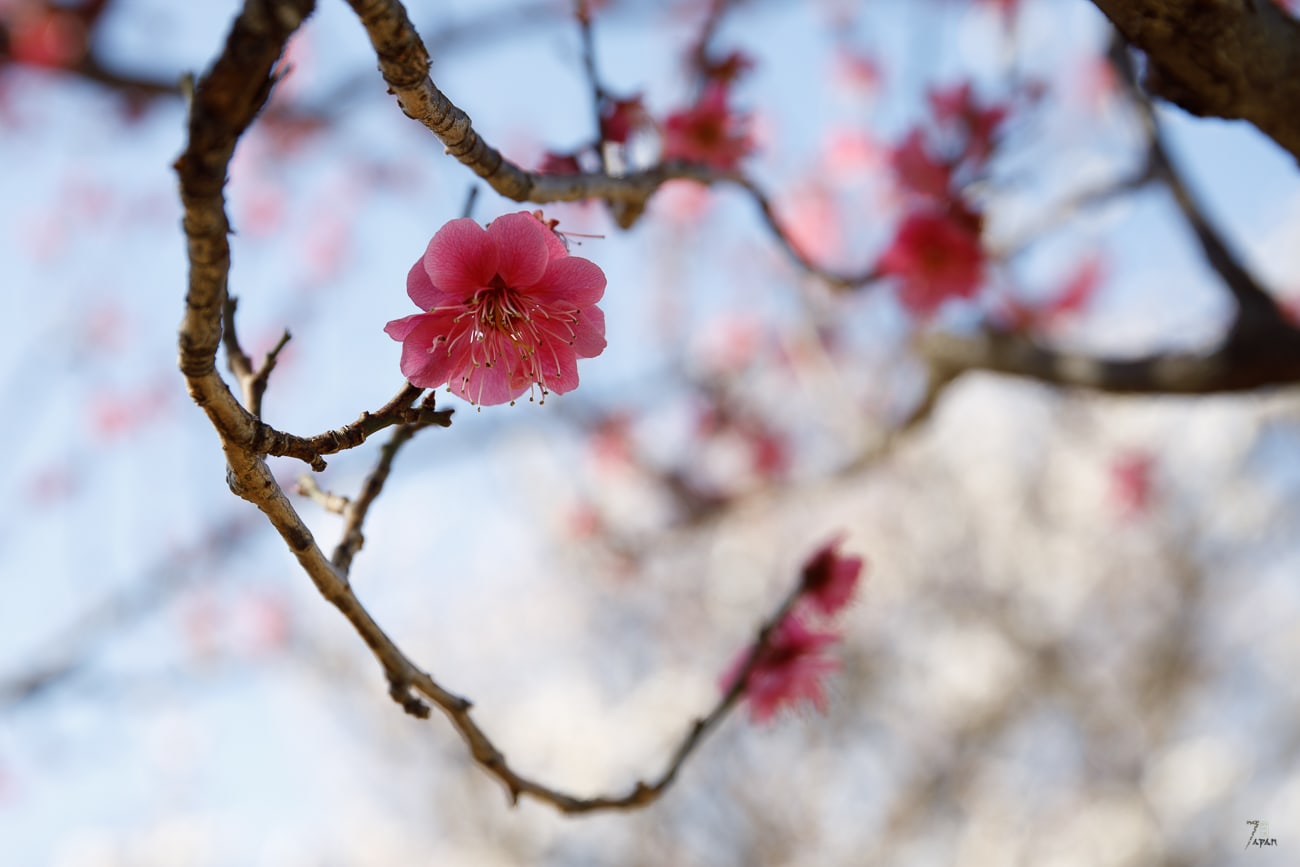 Where to see the plum blossoms in Tokyo
If you look around your neighborhood, you will surely come across at least some solitary plum trees. However, to fully appreciate the beauty of ume, I recommend visiting places where the trees are grown in large numbers. 
Below is a list of my personal favorites.
Best place to contemplate the beauty of plum blossoms in (relative) peace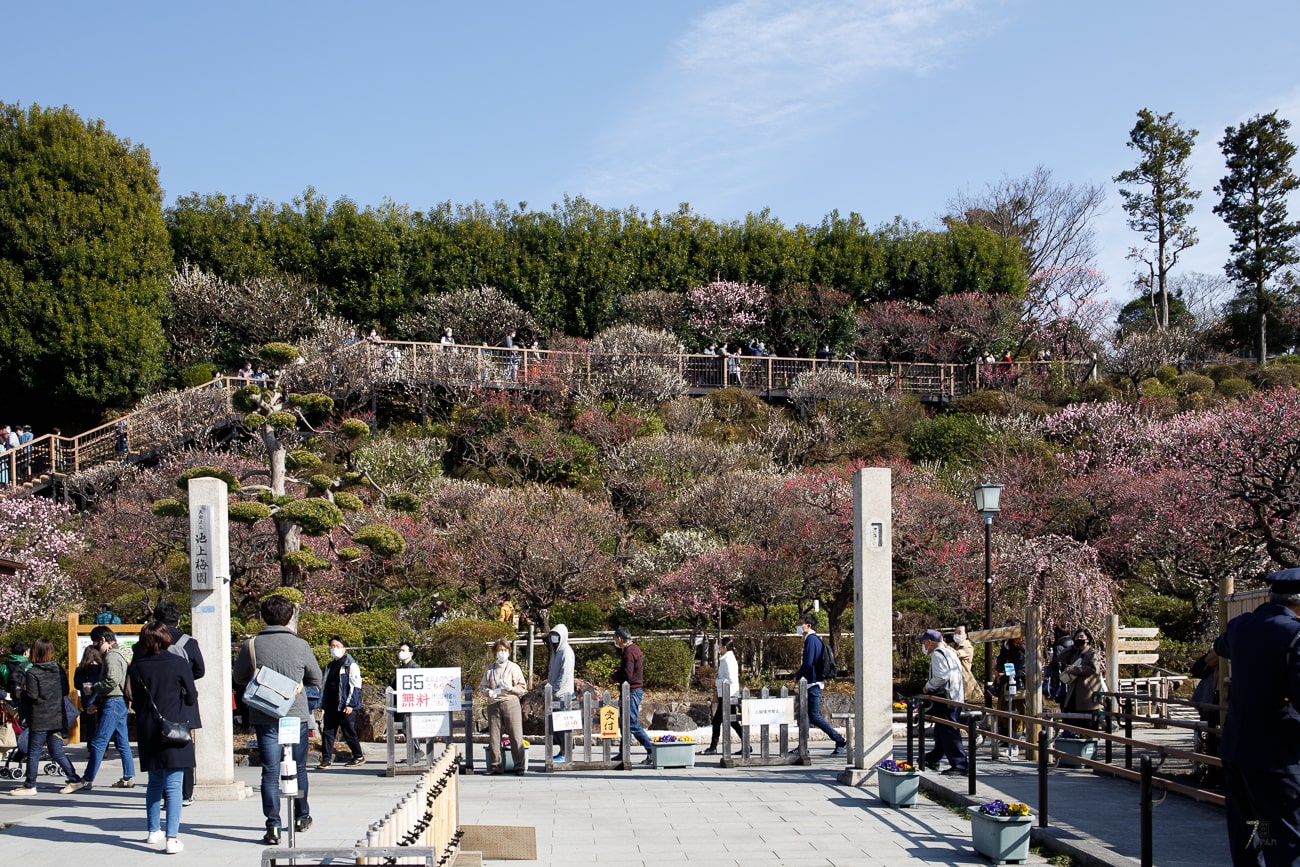 This is my go-to place for spectacular "plum blossom sea" type of views without having to leave the 23 wards of Tokyo. About 370 plum trees are planted on a steep slope. You can admire them from below, or climb a short staircase and take in the vista from above.
At the foot of the slope there are two Japanese tearooms and a traditional Japanese building with a small garden.
If you have time, take a short walk to the Ikegami Honmonji Temple, one of the most important temples of the Nichiren sect of Buddhism and home to the oldest five-story pagoda in the Kanto region.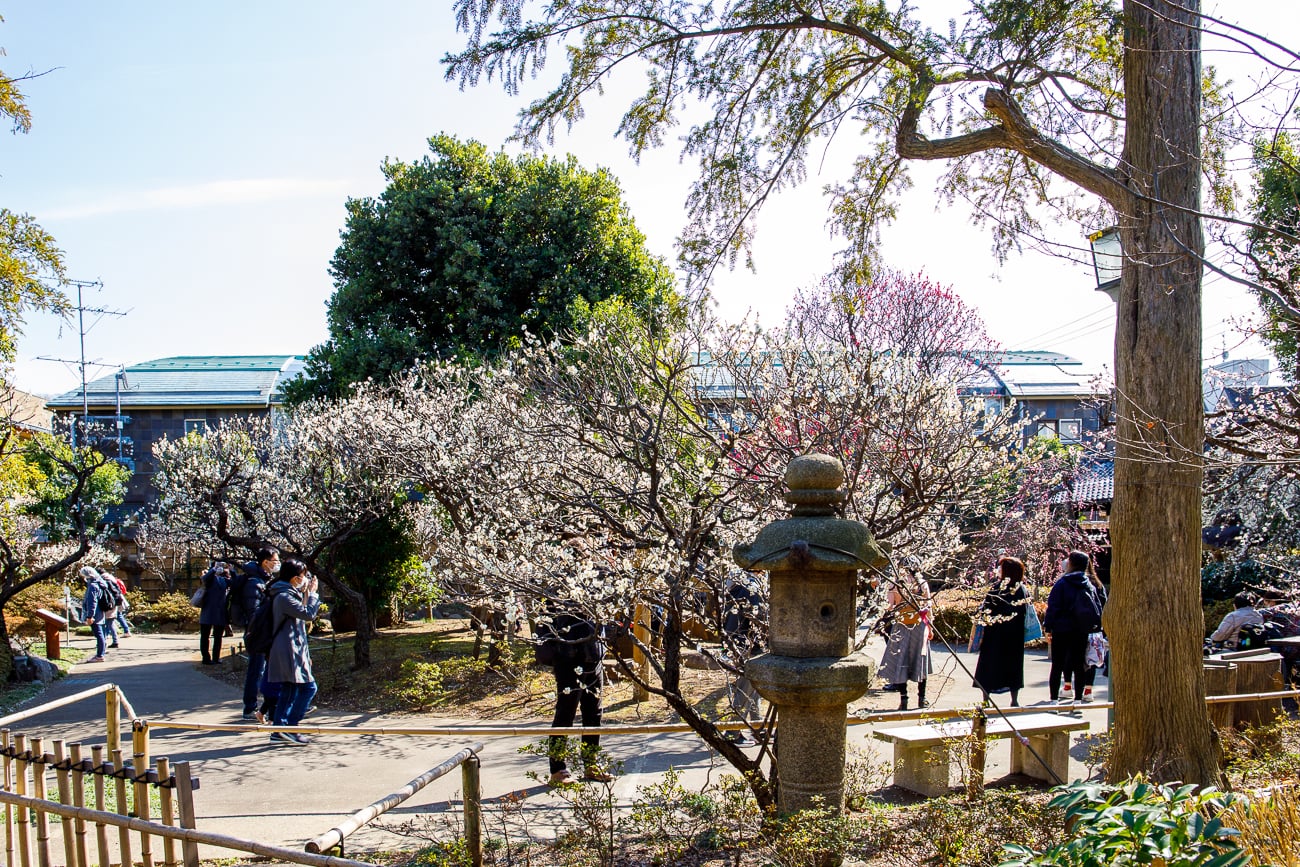 Yes (cancelled in 2021 due to COVID-19)
Around 370 trees of 30 varieties.
9:00 am – 4:30 pm (last entry 30 min before closing).
Closed on Mondays and New Year's holidays. If a scheduled closing falls on a public holiday, the park will open on the holiday and close the next day.
Adults (16-65 years old) 100 yen.
Children (6-16 years old) 20 yen.
Seniors (over 65 years old) free.
2-2-13 Ikegami, Ota-ku, Tokyo
10-minute walk from Nishi-magome Station on the Asakusa line.
20-minute walk from Ikegami Station on the Tokyu Ikegami line.
Best place to enjoy plum blossoms with small children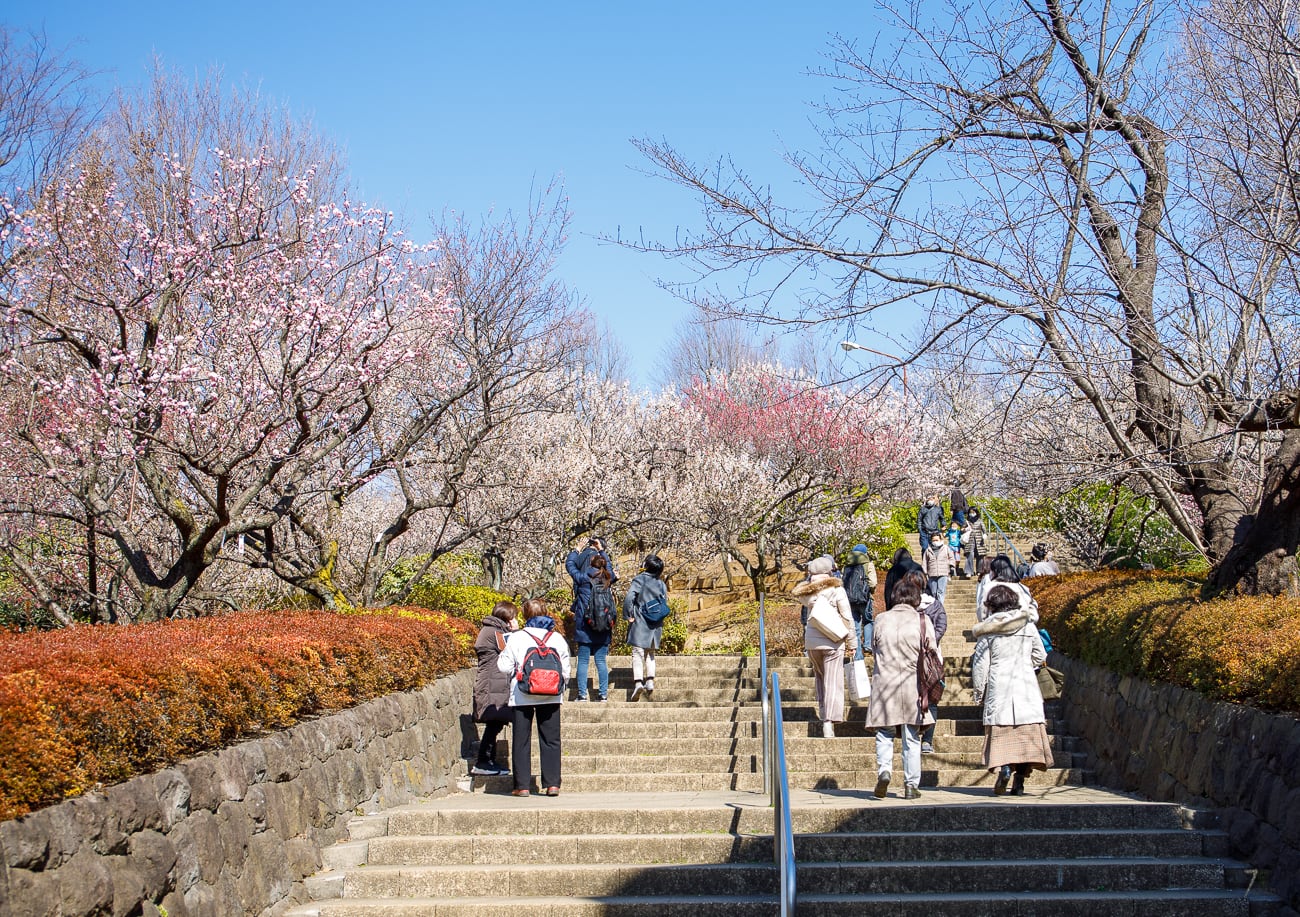 If you have small children and want to enjoy a leisurely day out in the nature for the whole family, head to the Hanegi Park in Setagaya. Apart from a sizeable plum tree grove (about 650 trees), you will find here sports facilities and a special "playground" with climbing frames and a maze, food stalls and even a library. There are supermarkets next to the Umegaoka Station, so you can stock up on picnic goods before coming to the park.
During the plum blossom season, there are various cultural events held on weekends and public holidays. You can also try different ume-themed sweets and buy seasonal plants.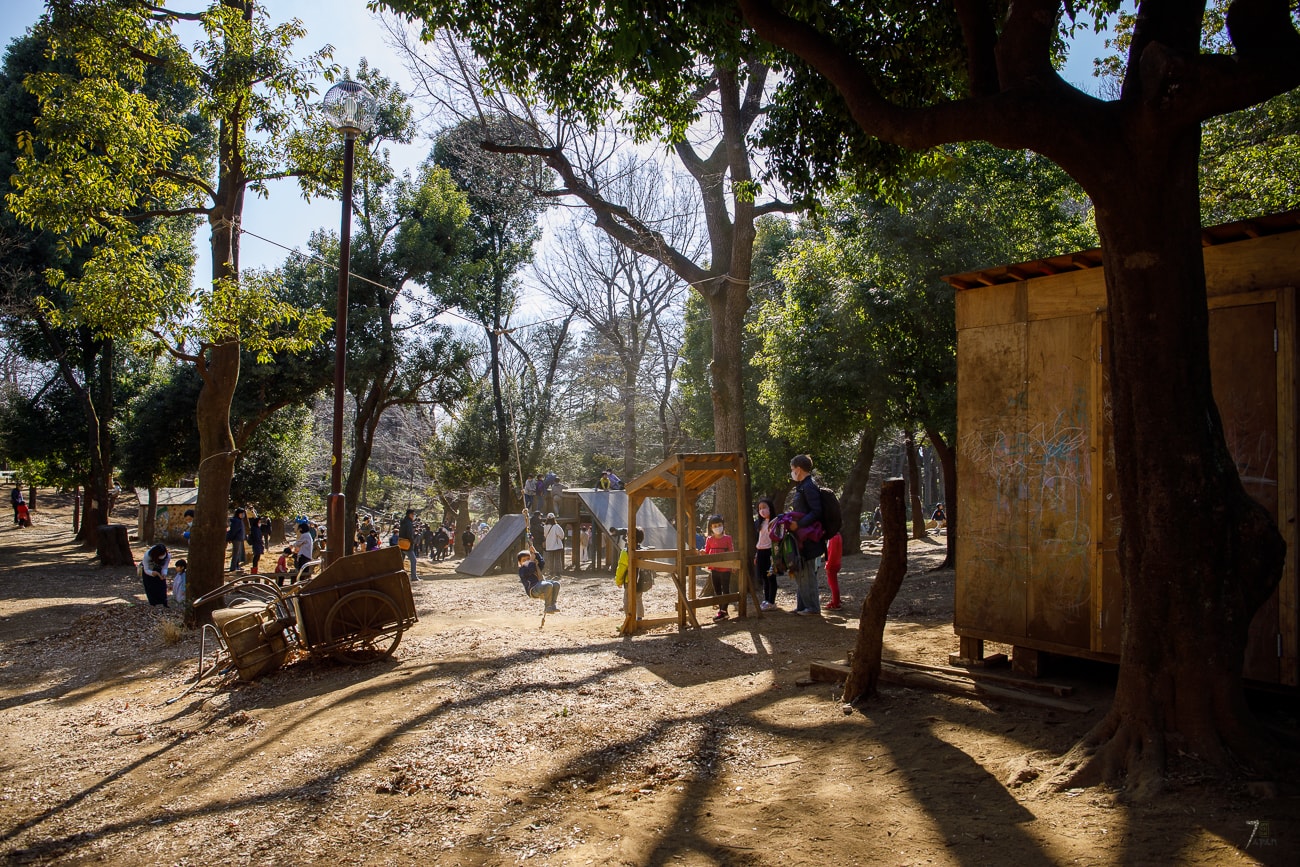 Setagaya Ume Matsuri (mid-February to early March)
The festival has been cancelled in 2021 due to COVID-19, but you can still come and enjoy the flowers and the food stalls.
Around 650 trees of 60 varieties.
24h (facilities' opening hours may differ)
Free (see website for information on facilities' rental fees)
4-38-52 Daita, Setagaya-ku, Tokyo
5-minute walk from Umegaoka Station on the Odakyu line.
7-minute walk from the Higashi-matsubara Station on the Inokashira line
Best place to enjoy Japanese culture and tradition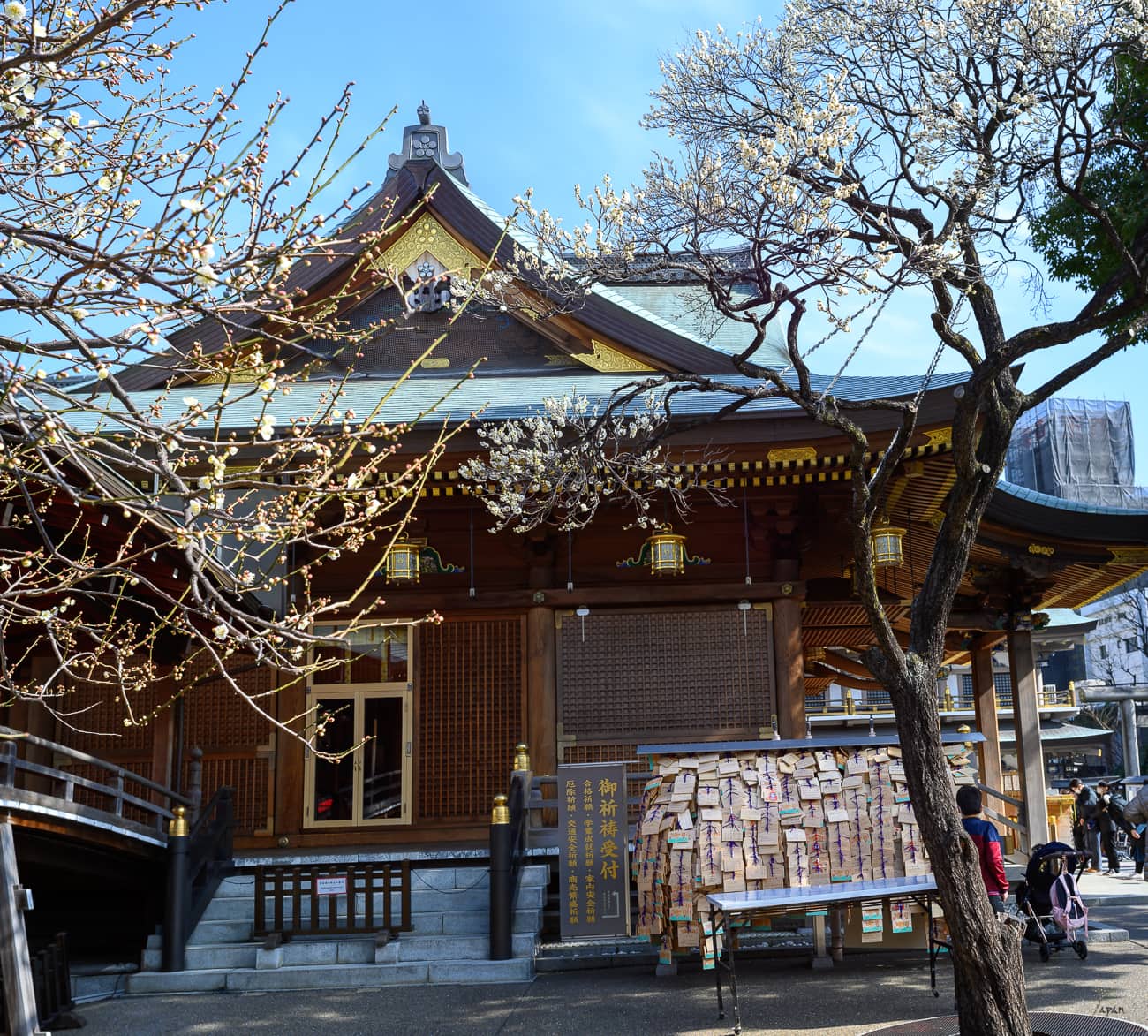 No list can be complete without this gem! If you are into the traditional Japanese vibes, this is a must-see.
Yushima Tenjin, a shrine located near the Ueno park, is devoted to the scholar Sugawara no Michizane. It is vastly popular with students who come here to pray for luck in passing their entrance exams. 
Yushima Tenjin has been renown for its plum blossoms since the Edo period. There are numerous plum trees on the shrine grounds as well as along a picturesque stone staircase at the back of the shrine.
During the month-long ume matsuri, one of the most comprehensive in Tokyo, the shrine organizes various traditional performances and parades and allows food stalls to be set up along the path leading to the main hall.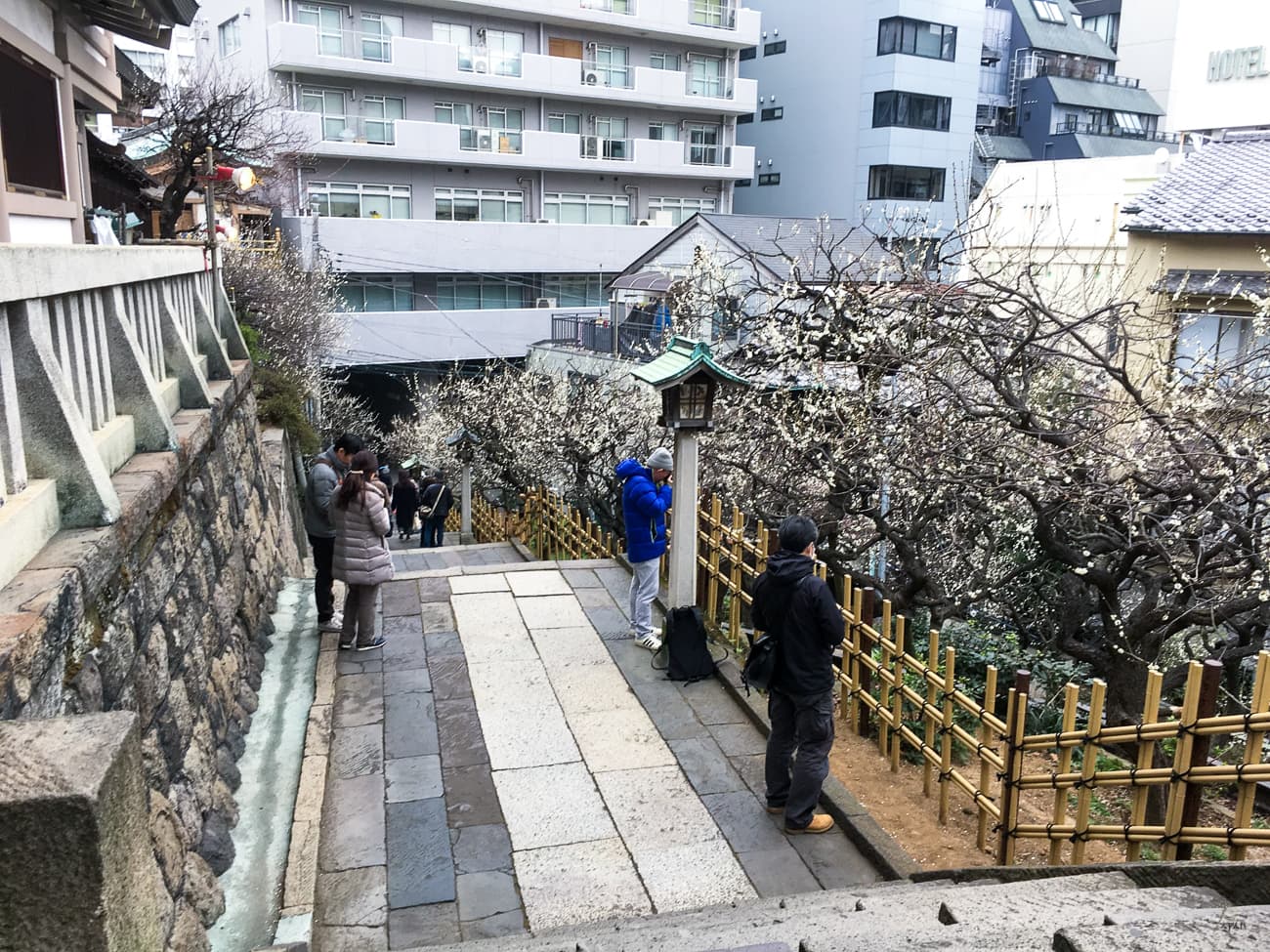 Bunkyo Ume Matsuri (from February 8 to March 8)
The festival has been cancelled in 2021 due to COVID-19, but you can still come and enjoy the flowers and the food stalls.
Around 300. Most are white, but there are also some pink weeping-willow style trees.
3-30-1 Yushima, Bunkyo-ku, Tokyo
10-minute walk from the Keisei Ueno station,
2-minute walk from the Yushima station on the Tokyo Metro Chiyoda line.
If you have found information in this post useful or interesting, please like it or share it on social media. Thanks!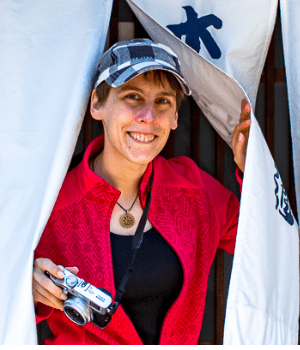 MARTA TAKAHASHI
Photographer and explorer with 10 years of experience leaving and working in Japan