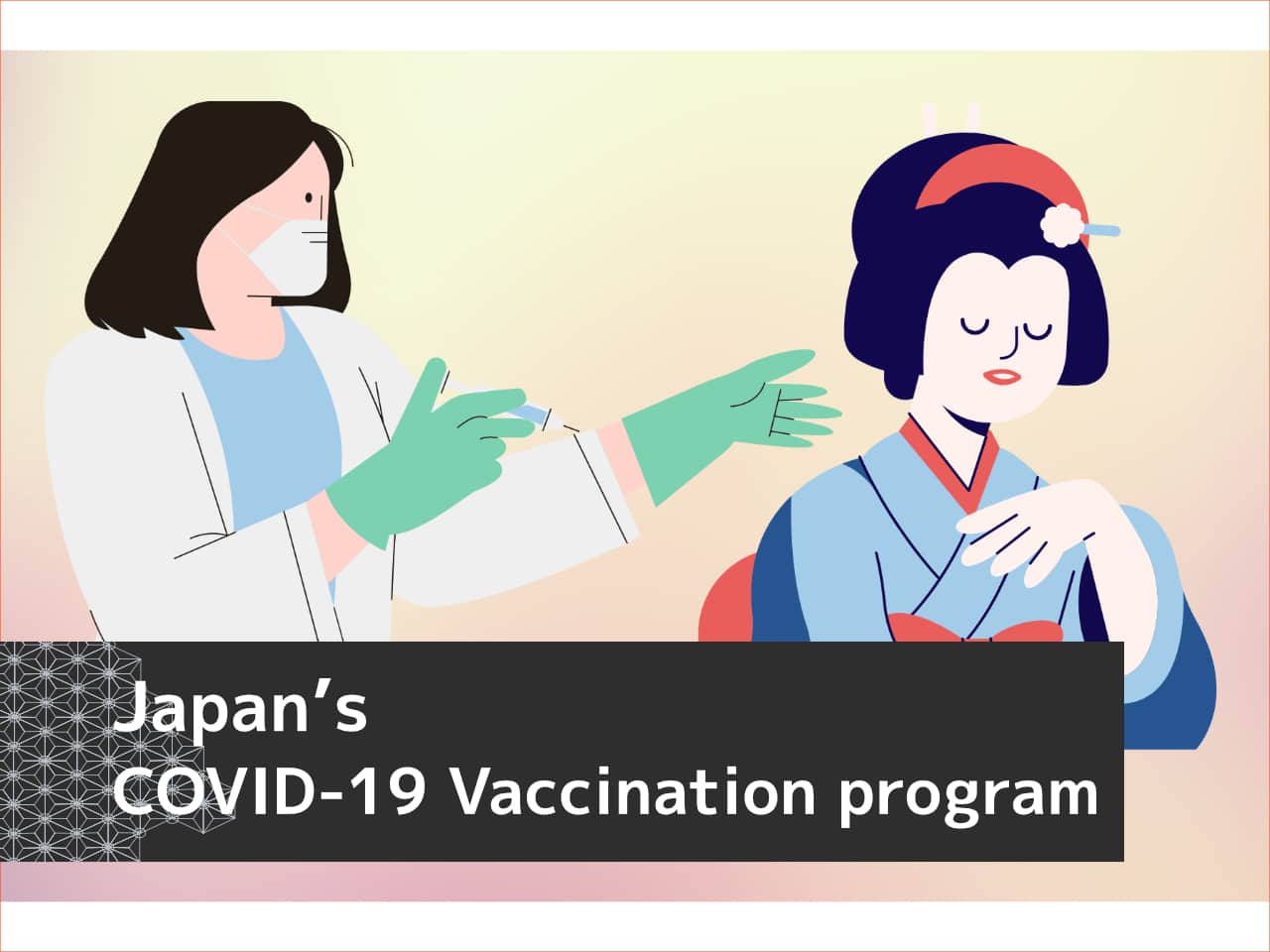 With the Olympics just around the corner and vaccination drives in developed countries around the world going full steam ahead, you may be wondering when you might get a COVID-19 vaccine in Japan. The Japanese government has had a very slow start and is currently just starting to vaccinate the elderly population. Some experts say that if you are a healthy adult under 65 years old, you may have to wait until late autumn or even winter to receive your first shot! The good news is that vaccines will be free for all residents (including foreigners) over the age of 16 who are registered within a municipality. 
Read on to learn more about the current state of the vaccination process in Japan.
[Update 2021.8.30] Japan is now vaccinating people over 16 years old and has opened application for vaccination passports to fully vaccinated residents. Most commonly used vaccines are still Pfizer and Moderna, but there are some new mass vaccination sites that will offer Astra Zeneca shots. The authorities are considering giving a third dose to the elderly and essential workers.
[Update 2021.5.31] It looks like Japan's vaccination program will speed up soon. According to Kyodo News, municipalities will begin sending vaccination vouchers to all eligible residents under 65 years old from the middle of June. However, the municipalities will be able to designate their own priority groups, such as caregivers, teachers, those with underlying health conditions, etc., so if you are just a "regular guy or girl" you may still have to wait until autumn.
What COVID-19 vaccines are available in Japan?
Unlike many other countries, Japan requires a domestic clinical trial in order for a vaccine to be approved for use (the entire process usually takes about one year, although the authorities may expedite it in case of emergency). 
Currently, Japan has only approved the Pfizer and Moderna vaccines. However, the Astra Zeneca vaccine is also undergoing the approval process. The Johnson&Johnson vaccine has been in clinical trial in Japan since September 2020 but the company has not filed for approval yet. 
There are several Japanese manufacturers, such as Daiichi Sankyo Co. and Shionogi & Co., whose vaccines are in various stages of development and testing.
According to Reuters, Japan has secured the largest amount of COVID-19 vaccines (Pfizer, Moderna and AstraZeneca) in Asia. Unfortunately, because of personnel shortage and logistical bottlenecks, the vaccination campaign has been slow to gain steam and many of the doses remain in storage facilities.
What is the vaccine rollout schedule?
Both Pfizer and Moderna vaccines require two doses, usually 3 weeks apart. The government recommends getting the same vaccine for both doses.
According to the MHLW website, vaccines will be available from 17 February 2021 to the end of February 2022.
The vaccinations will be administered in stages:
1) healthcare workers (started on 17 February 2021)
2) elderly (over 65) (started on 12 April 2021 in some municipalities, the government plans to finish inoculating this group by July 2021)
3) people with underlying medical conditions and workers in elderly care facilities
4) general population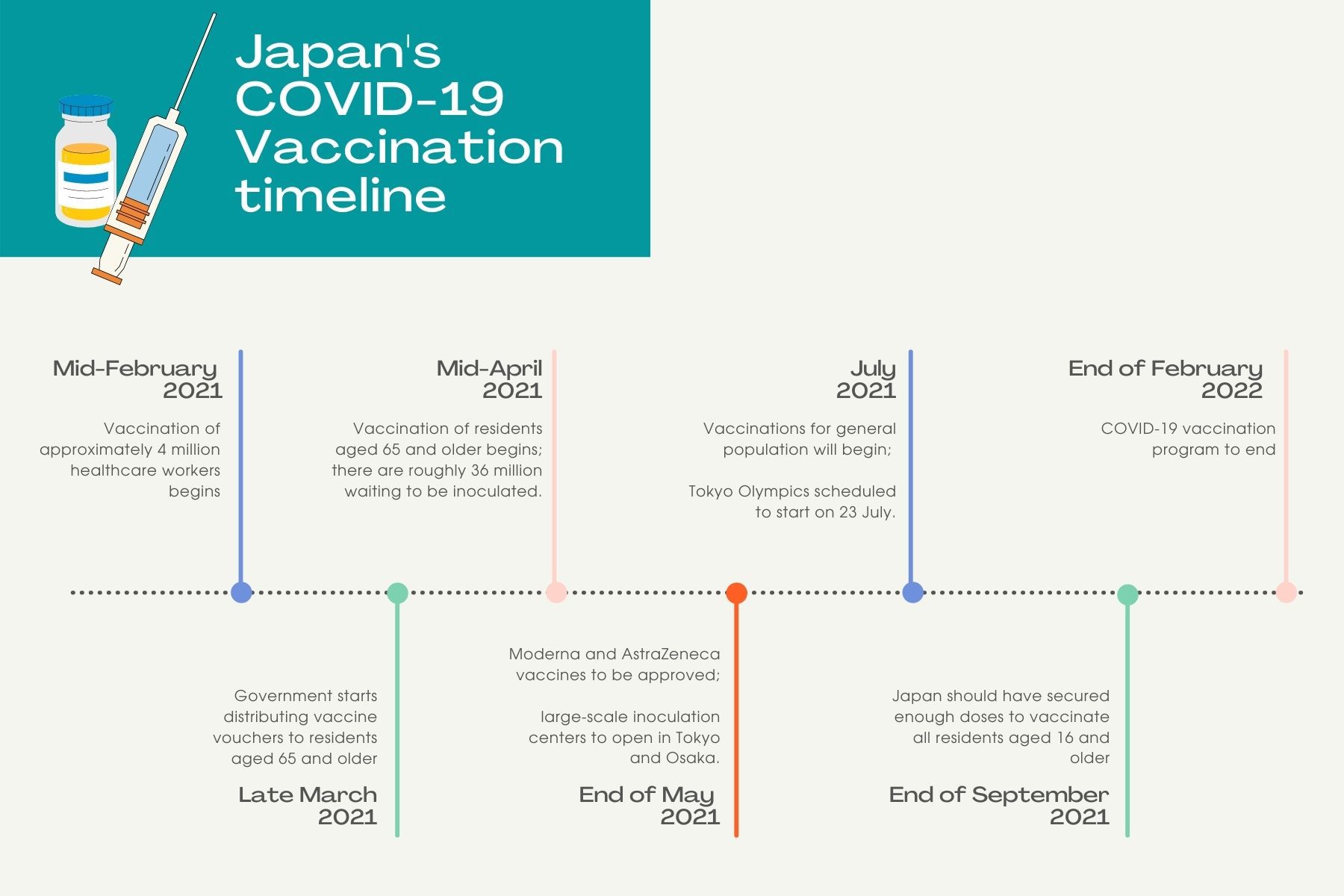 Who is eligible to get the COVID-19 vaccine in Japan?
All residents over 16 years old who are registered within a municipality are eligible to get the COVID-19 vaccine for free. This includes foreign residents. Municipalities will send out the notification documents and COVID-19 vaccine coupons (for the 1st and 2nd shot) by mail.
People who fall under the following categories cannot receive the vaccine:
People with fever 37.5 degrees C or higher
People suffering from a serious acute illness
People with a history of severe hypersensitivity to any of the ingredients of the vaccine
People with other conditions that make it inappropriate for them to receive the vaccine
Which facilities can I use?
As a rule, you will be expected to get your COVID-19 shot in the municipality where your juminhyo (住民票, residence certificate) is registered. 
If your registered address and the address you actually live at are different and you wish to receive the vaccine in the municipality where you actually live, you may change the vaccination location. 
In order to change the municipality, you will need to submit a request for a change of vaccination location. You can do this online on the コロナワクチンナビ portal or by filling out the required form provided by the municipality and sending it and a return envelope by post.
If you submit the request online, your certificate (住所地外接種届出済証) will be displayed on the screen. Download it and print it out or save it to your phone so that you can show it to the vaccination facility staff when you go to get your vaccine. If you applied by post, your certificate will be delivered to you by post in the return envelope you have provided.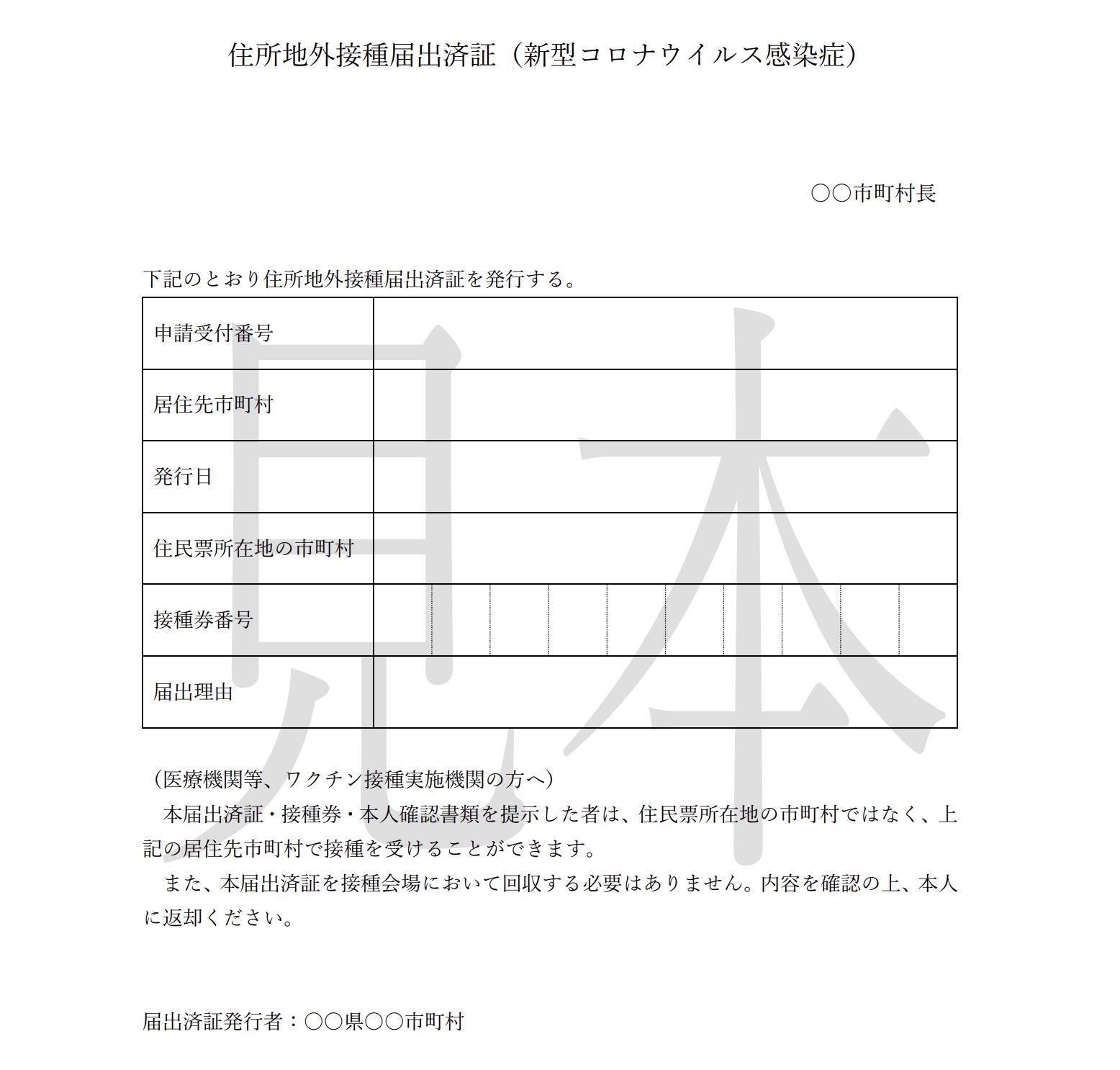 How to make a reservation for the COVID-19 vaccination?
The steps are straightforward:
1) get the vaccination notification and coupon from your municipality by mail
These documents will be sent out to residents according to the vaccination schedule, starting with the elderly and people with comorbidities.
2) fill out the vaccination form
Residents will need to fill out a form in Japanese. The form consists of two parts, the Prevaccination Screening Questionnaire and the COVID-19 Vaccination Request Form.The Japanese government translated the vaccination-related documents into 17 languages including Chinese, English, Korean, Russian, Spanish, Tagalog and Vietnamese. Unfortunately, these are only for reference purposes, so you will still have to deal with the Japanese forms.
3) find a facility offering vaccinations in your municipality
There is a list of such facilities on the コロナワクチンナビ  portal and on the website of your municipality.
4) book a spot at your local vaccination point
This can be done through a dedicated internet reservation system or by telephone.
What will happen on the day of vaccination?
On the day of the vaccination, remember to measure your body temperature. If you have a fever of over 37.5C, or if you are feeling unwell, contact the facility and reschedule.
What to bring with you:
The vaccination coupons (Don't tear the vaccination coupons off! Just bring the whole thing.)
An ID document (My Number card, residence card, driver's licence) 

Your health insurance card
After your shot, you will be asked to sit in a waiting room for about 15 minutes. If you notice any adverse reaction, inform the staff immediately.
Will I get a COVID-19 vaccination certificate?
Yes, you will get a paper vaccination certificate listing the type of vaccine, the date of vaccination and the place where the vaccination was done. 
The issue of digital "vaccination passports" is still being discussed. 
For more information on the COVID-19 vaccination program in Japan refer to:
The information provided on this website is intended for informational purposes only and should not substitute for a lawyer. This information does not constitute legal advice. The information is provided "as is" without warranty of any kind, either expressed or implied, including, but not limited to the implied warranties of merchantability, fitness for a particular purpose or non-infringement of third party rights. 
If you have found information in this post useful or interesting, please like it or share it on social media. Thanks!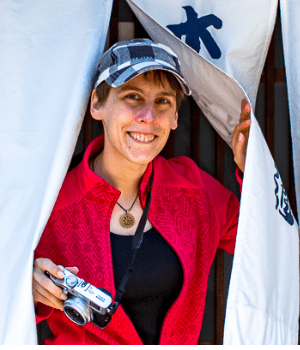 MARTA TAKAHASHI
Photographer and explorer with 10 years of experience leaving and working in Japan